Boxdin
Readers Rides
Re: 1980 Chevy Van 20
vaNsquared
29 minutes ago
It turns out the leaky sealant in the drip rail was also the only thing holding the roof skin to the vehicle.
With the drip rails clear, lifted the the roof to treat the otherwise inaccessible rust.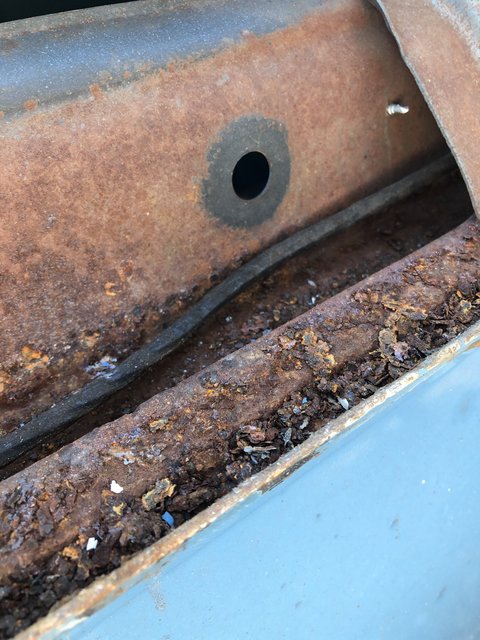 Plenty of rusty flakes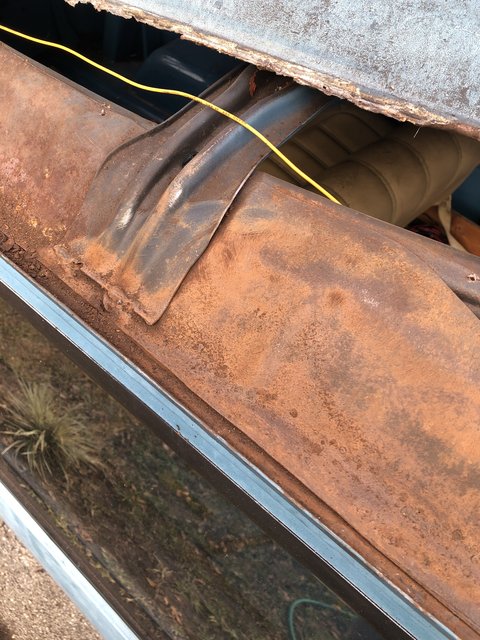 A section cleaned up with a wire wheel. Thankfully the structural areas were still sound.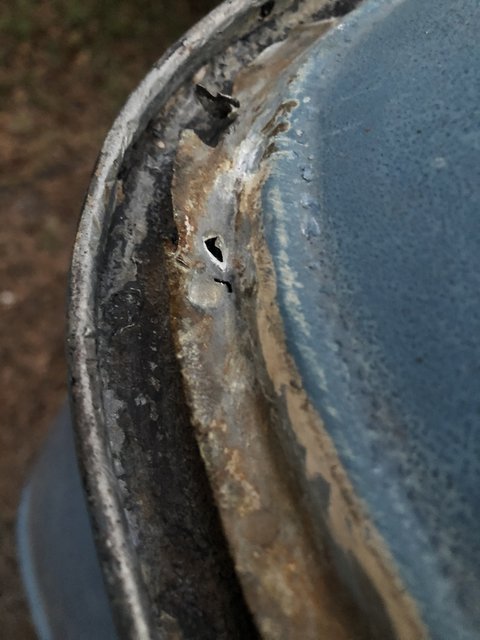 Here is the roof and drip channel ready to be made into a POR-15 sandwich
With everything done, rusty roof areas were:
wire brushed
vacuumed
degreased with simple green
rinsed,
treated with POR-15 metal prep or Ospho.
rinsed again
left to dry
drip channel painted with POR-15
roof skin refitted
painted top of roof flange with POR-15
sealed with a good quality seam sealer.
9
252
General Discussion
Re: Swivel Seat for G20
DrCaldre
Yesterday at
01:33 AM
Well, went to take a look at putting in this northern tool sucker today. I basically hit a dead end because of the existing seat supports. These seat supports swapped out into the van by the previous owner, then I put express seats on them. Since a second bolt pattern has already been drilled in the floor, I'm only going to use these supports. Two of the holes on the bottom of swivel plate line up on the seat support knuckles, and two on the top line up with the cushion. So like others, I'll need something fabbed up to mount it. I don't have any equipment to cut, grind, or weld, so I'm going to have a local guy help me out after the motor goes in. The swivel is really nice and beefy though. If I wanted to spend the money, I'd definitely put one on my driver seat. Maybe later.
35
6,155
Clubs/Vanners
Re: greensboro nc clubs?
ozzmonaut
Yesterday at
12:28 AM
I'm in Mount Airy, NC. Not sur how far Gboro is from me. But I'm about 45 min. from Winston. If we could get a few people to meet around Winston when weather warms a bit it might be cool. I know a ton of people in the VW scene and could probably get some bus owners to show. A guy that works at the Carquest here in town is big into customizing his van. He would probably show as well.
7
580
craigslist Findings
Re: 1969 Econoline $1000 South Gate CA
samhain
January 16th 2021 5:28 pm
I've worked In Compton a many times, and hit the skatepark, never an issue. It's not so bad, I wouldn't go driving or walking the grid searching for vehicles. that looks like an industrial setting, no sweat. Some good bbq spots in the area.

Crips and bloods made in America is a decent documentary, to get a look at the history of the area.

May be worth partin out for someone motivated, especially if you get the price down a bit.
4
85
Troubleshooting
Re: Rear Sag
Dino
January 16th 2021 4:28 pm
My bad my bolts are on top,,,going with 22-2029 HD 2000lb,,,5/1 $249 each at General Spring
13
171
| | | | | | | | | | |
| --- | --- | --- | --- | --- | --- | --- | --- | --- | --- |
| Page 1 of 8 | 1 | 2 | 3 | 4 | 5 | 6 | 7 | 8 | |
Forum Statistics
Most Online
177


May 8th, 2013